El 1/2″ (media pulgada) Thingamabobber es excelente para ninfas pequeñas, 14 a 20, especialmente cuando hay mucho viento. Ya que tiene una resistencia muy baja en el viento.    These 1/2 inch Indicators are excellent for casting small nymphs, 14 to 20 range especially in windy conditions. It has a low wind profile in the water and in the air.
El 3/4″ Thingamabobber no es para ninfas livianas pero es para ninfas mas grandes como "stone flies" #6, ninfas con tungsten, o cuando uses dos ninfas con "split shot" (plomo). These Indicators are not for light nymphs or for suspending wet flies. It is for larger nymphs like #6 stone flies, tungsten bead head nymphs and two fly rigs on medium and large rivers.
El 1″ Thingamabobber es excelente para ninfas grandes y pesada, para leaders con mas plomo, para areas del rio profundas y rapidas. Todas las medidas son liviana; ademas lanzan, "roll cast" y "mend" muy bien! This indicator is excellent for fishing #4 stone flies, nymphing with a lot of lead, fishing deeper faster water holes, or when nymph fishing for steelhead.  It is light weight for its size and it casts and roll casts exceptionally well.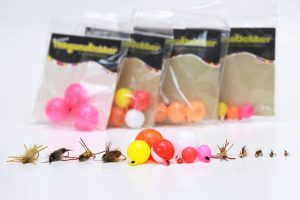 ---
| | | | |
| --- | --- | --- | --- |
| MEDIDA EN PULGADAS | UNIDADES POR PAQUETES | COLORES | PRECIO POR PAQUETE |
| 1 | 3 | Naranjo, Rosado o Blanco | $3.500 |
| 3/4 | 3 | Naranjo | $3.000 |
| 3/4 | 3 | Rojo/Blanco (bi-color) | $3.000 |
| 1/2 | 3 | Naranjo, Rosado, Rojo o Blanco | $2.5000 |
| | | | |
| | | | |
---
3 Ways To Rig A "Thingamabobber" Strike Indicator
Como conectar los indacadores…
Con "loop" en el leader
Con palito (Tooth pick)
Con nudos de material de linea que flota (Slip stopper knots- Video abajo)